Elliot, A Soldier's Fugue - Intersections Calendar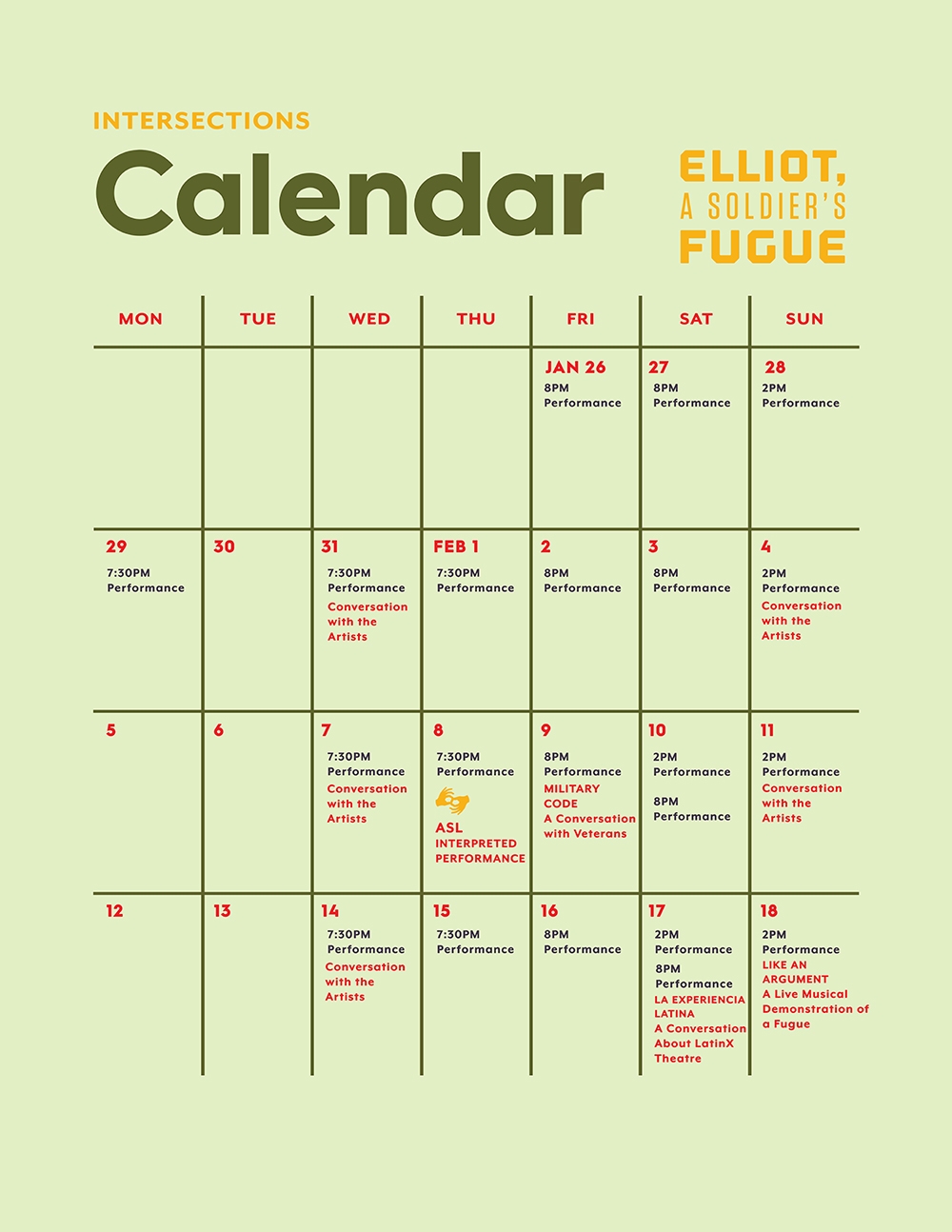 January 31st – Conversation with the Artists
February 4th – Conversation with the Artists
February 7th – Conversation with the Artists
February 8th – ASL-Interpreted Performance
February 9th – MILITARY CODE – A Conversation with Veterans
February 11th – Conversation with the Artists
February 17th – LA EXPERIENCIA LATINA – A Conversation About Creating Theatre for the LatinX Community in DFW
February 18th – LIKE AN ARGUMENT - A Live Musical Demonstration of a Fugue
January 31, February 4, 7, 11, & 14 – Conversation with the Artists
A post-show conversation with members of the cast of ELLIOT, A SOLDIER'S FUGUE discussing the themes of the play, the rehearsal process, and what it's been like diving into this poetic and powerful story.
February 8 – ASL - Interpreted Performance
As part of WaterTower's commitment to creating accessible theatre for all communities, we're proud to offer a sign-interpreted performance of Elliot, A Soldier's Fugue.

February 9 – MILITARY CODE – A Conversation with Veterans
We're honored to host a post-show conversation with a small panel of local veterans discussing their decision to serve our country, and what the experience of returning home is like.
February 17 – LA EXPERIENCIA LATINA – A Conversation About Creating Theatre for the LatinX Community in DFW
Leaders of local LatinX theatre companies join us for a post-show conversation about their experience creating theatre for the LatinX community, and why they've committed themselves to Dallas-Fort Worth.
February 18 – LIKE AN ARGUMENT - A Live Musical Demonstration of a Fugue
Local musicians Kate Flum (Flute) and Matt Emanuelson (Bassoon) will perform the Villa-Lobos Bachianas Brasileiras No. 6 for Flute and Bassoon, as well as an arrangement of a Bach Fugue. The performance will be followed by a brief discussion/Q&A.