Donor Groups
Looking for opportunities to share similar interests with other WTT patrons? Make a deeper investment in the arts by joining one our popular donor affinity groups! A membership in one of these donor groups offers many exciting opportunities from behind-the-scenes tours, to VIP opening night receptions, to "sneak previews" with guest speakers, and much more. Click on one of the categories above to learn more!
Corporate Council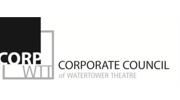 Derek Blount, Co-Chair currently serves as Chairman of the WaterTower Theatre Board of Directors and has served as the Co-Chair of the Corporate Council since its inception. He joined the WaterTower Theatre Board of Directors in 2006. Since joining, Derek has served two terms as Board Treasurer, one term as Board Vice President, four terms as Board President and one term as Board Chairman.
Learn More
Women Of Watertower

The goal of Women of WaterTower Theatre is to offer members the opportunity to connect with an exciting and diverse group of women, a place to expand horizons about the arts with prestigious speakers – often women working in the arts -- held at innovative venues and a forum to help build wider community support for WaterTower Theatre.
Learn More