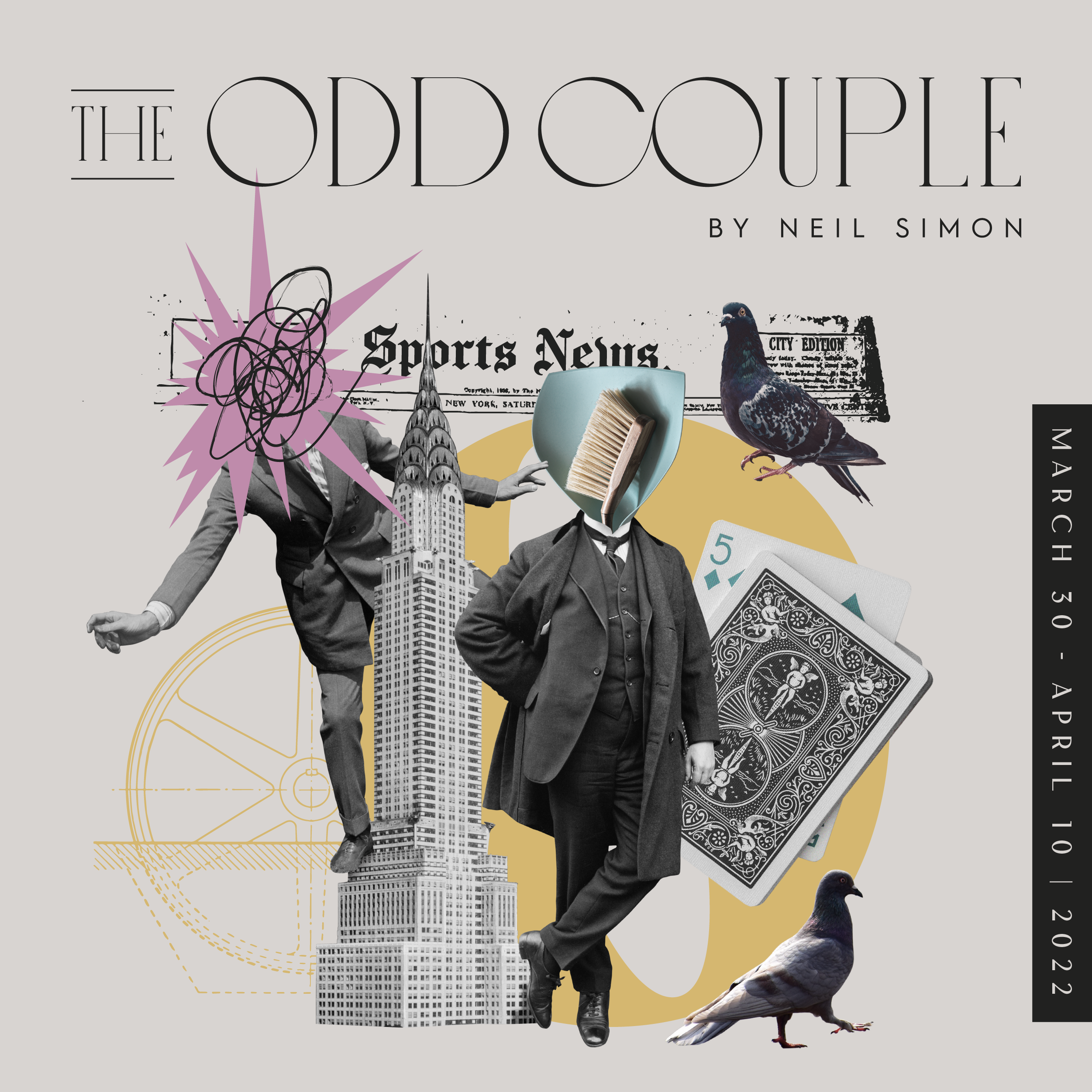 WaterTower Theatre Announces Cast & Creative Details for THE ODD COUPLE
Addison (TX) – WaterTower Theatre Producing Artistic Director Shane Peterman and Associate Producer Elizabeth Kensek are proud to announce casting and creative details for The Odd Couple, the classic comedy by legendary American playwright Neil Simon.
This Tony award-winning classic comedy centers around two unlikely roommates, uptight neat Felix Ungar and easygoing disheveled Oscar Madison, and inspired both a hit movie & multiple TV series. This classic comedy opens as a group of buddies assemble for a poker game in the apartment of divorced Oscar Madison. And if the mess is any indication, it is no wonder that his wife left him. Late to arrive is Felix Unger, who has just been separated from his wife. Fastidious, depressed, and extremely tense, Felix is inconsolable, but as the action unfolds, Oscar begins to see red when the clean freak and the slob ultimately decide to room together with hilarious results.
The Odd Couple will run from March 30th, 2022 - April 10th, 2022 on the Terry Martin Main Stage at the Addison Theatre Centre. This classic comedy which has inspired countless movies and television shows will be directed by Ashley Puckett Gonzales who shared the following regarding her vision for the production:
"In a time when we are reevaluating art with new perspectives, it is exciting and interesting to revisit a classic with new eyes. Our version of The Odd Couple approaches the "good old days" as if they were better than they were- a version of the timeline where diversity is embraced instead of just in its infancy. Neil Simon's classic 1965 comedy has at its heart, a story of individuals trying to connect through their differences and trying to make their way through difficult times. Loyalty and kindness overcome personality quirks and differences. Come laugh with us as Felix and Oscar muddle through relationships, trying to learn to connect, and to do better tomorrow than they did yesterday."
The productions stars Durrell Lyons as Oscar and Duke Anderson as Felix. The unlikely roommates are joined by their four poker playing buddies; Murray (played by Blake Henri), Roy (played by Guinn Powell), Speed (played by Kia Boyer), and Vinnie (played by Andrew Nicholas). Oscar & Felix's vivacious neighbors, the Pigeon Sisters, will be played by Kenzie Henderson (Gwendolyn), Sarah Perkins (Cecily), and Mark Quach joins the cast as understudy.
The creative & production team includes Amy Poe as Costume Designer, Bryant Yeager as Lighting Designer, Ruby Pullum as Properties Designer, Kennedy 'K' Styron as Scenic Designer, Rayven Harris as Sound Designer, Ashley Newman as Production Stage Manager Briana Collazo Abbott as Assistant Stage Manager, and Assistant Director Antonio Thomas.
---
The production has been approved by Actors Equity Association under their fully vaccinated safety protocols for indoor productions, ensuring the safety of both artists and patrons alike.
Contains adult language. Recommended for ages 12 and above.
WaterTower Theatre's 2021-2022 Season Sponsor is the Town of Addison.
---
Ashley Puckett Gonzales (Director) has enjoyed 20 years as a professional actor and theatre maker. In the last 5 years directing has become her true focus and she really loves being on the other side of the table. She has worked as a director and associate director in theatres ranging from high schools, to regionals, to Off-Broadway. She has always taught, coached, and directed both kids and adults; and her students have worked in shows ranging from community theatres, Broadway's The Lion King, to Dallas Theatre Center and other regional houses. Ashley is also an accomplished actress that has performed in Broadway National tours, at Madison Square Garden, The Kennedy Center, and at countless regional theaters. She brings that experience to bear as she strives to tell good stories with passion and creativity.

---
Show Run Dates: March 30- April 10, 2022
Single tickets are on sale now.
This production will be staged on the Terry Martin Main Stage at the Addison Theatre Centre at 15650 Addison Road, Addison, Texas 75001.
For more information on WaterTower Theatre and upcoming productions, visit us online at www.watertowertheatre.org or call the Box Office at 972.450.6232.
Pay-What-You-Can performances will be the first Saturday matinee of each run.
ASL Interpreted Performances will continue to be the final Thursday performance of every run.
Sunday matinees feature Intersections events immediately following the show, providing audiences a chance to learn more from the cast & special guest panelists.
Ticket Prices:
Single Tickets - $39
*Student, Industry, and HERO (Veterans and active-duty service personnel) discounts available
*Subscribers always get discounts and may purchase additional individual tickets at a discount as well.
*Group discounts are available through the box office.
---
About WaterTower Theatre

Founded in 1996, WaterTower Theatre (WTT) is one of Texas' leading professional theatre companies and one of the flagship arts institutions in North Texas, having played an important role as a leader in developing new talent and encouraging the growth of the DFW artistic community through its commitment to hiring local artists. In March 2019, Shane Peterman joined WTT in his current leadership position as Producing Artistic Director. WaterTower Theatre is consistently recognized for its artistic excellence by the Dallas Theatre League, DFW Theatre Critics Forum, The Dallas Morning News, The Dallas Observer, D Magazine, The Column, and The Fort Worth Star-Telegram, among others. WaterTower Theatre has a subscription base of more than 600 subscribers and serves an audience of over 24,000 patrons annually.
WaterTower Theatre is 501(c)(3) non-profit organization, that relies on its ticket income and generous donations from individuals, corporations, foundations, and government organizations to produce world-class live professional theatre and to offer community engagement and arts education programs. WaterTower Theatre gratefully acknowledges the support of the Town of Addison, The Civic League, The Shubert Foundation, TACA, Texas Commission on the Arts and the National Endowment for the Arts. WaterTower Theatre's current 2021 -2022 season is also supported, in part, through the generosity of its many civic, corporate, and foundation donors including AMLI Residential Addison, FASTSIGNS Carrollton, Guaranty Bank, ONCOR, and individual donors Don and Barbara Daseke, The Bob Downs Family, Stan Graner and Jim McBride, Phillip and Janeva Longacre, Kathy Messina and Gary Goodwin, Janiece and Jimmy Niemann, Karol Omlor, Jack and Libby Swindle, Deborah and Craig Sutton, and Ron and Donna Whitehead.
---
How/Where to Buy Tickets:
By Phone: 972.450.6232
Or In-person:
WaterTower Theatre at the Addison Theatre Centre 15650 Addison Road, Addison, TX 75001
Fax: 972.450.6244 Email: boxoffice@watertowertheatre.org
Box Office Hours
Monday-Friday Noon - 6 p.m.
Or Online: