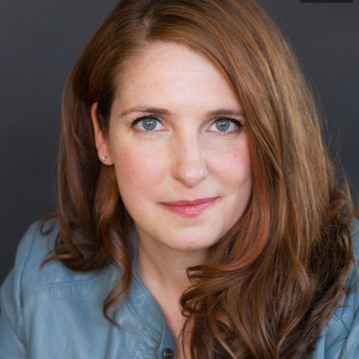 Addison, TX – The Board of Directors of WaterTower Theatre, along with Shane Peterman, Producing Artistic Director, is pleased to announce the hiring of Elizabeth Kensek as Associate Producer. Kensek formally assumed her position on Monday, August 12, 2019. She will work with theatre leadership to champion the company's artistic vision, while also overseeing much of the organization's critical production and operational tasks.
Kensek arrives at WaterTower following the recent departure of former Associate Producer Kelsey Leigh Ervi, who left to pursue a graduate degree in Directing from Northwestern University. Kensek brings over 15 years of experience in both the theatrical arts—as a performer, stage manager, educator and producer—and the business world, where she has worked in numerous roles, such as business analyst, project manager, and account manager.
"I have known Elizabeth to be a true professional, artistic leader and someone who cares deeply for the theatrical arts for many years," says Shane Peterman. "Having Elizabeth on our team is a wonderful, positive step in the re-building of WaterTower Theatre."
"I am honored to be joining this landmark institution, one that understands the vital importance of professional theatre in North Texas," says Kensek. "I'm excited to work with Shane and the team on future programming plans. I am a long-time admirer of WaterTower Theatre and its artists. I believe that we have the opportunity to be a formidable and profitable leader in our industry, and I believe that our success will also bolster the success of local Addison businesses and the greater community that surrounds us."
About Elizabeth Kensek
Elizabeth Kensek grew up in Chicago, graduated Magna Cum Laude from Illinois Wesleyan University, and has called NYC her home for over a decade. She is thrilled to be making the move to Texas permanently, having spent the last six years splitting her time between NYC and Anna, TX, where she lives with her husband Steve Barcus and their dog Henry. A professional actor since the age of 13, she has worked in theaters across the US in genres including musicals, plays, classical, devised, experimental and children's theater in over 100 productions. She recently expanded her professional theater experience to include stage management, creative and producing team positions in the last decade. Elizabeth is a proud member of Actors Equity Association, has served as the Director of Development and Artistic Associate for Theatre 4the People in NYC, and was an original contributor to both Theatre 4the People and Working Man's Clothes Theatre companies. You may recognize her from playing with The Barcus Brothers band at music venues across DFW. She also enjoys working and volunteering with various not-for-profit organizations to raise money and awareness for charities such as Human Rights Campaign, The Sunshine Kids, and The Actors Equity Foundation Steven J. Falat Basket Project.
About WaterTower Theatre
Founded in 1996, WaterTower Theatre (WTT) is one of Texas' leading professional theatre companies and one of the flagship arts institutions in North Texas, having played an important role as a leader in developing new talent and encouraging the growth of the DFW artistic community through its commitment to hiring local artists. WaterTower Theatre is consistently recognized for its artistic excellence by the Dallas Theatre League, DFW Theatre Critics Forum, The Dallas Morning News, The Dallas Observer, D Magazine, and The Fort Worth Star-Telegram, among others. WaterTower Theatre has a subscription base of more than 2,000 subscribers and serves an audience of over 24,000 patrons annually.
WaterTower Theatre is 501(c)(3) non-profit organization. WaterTower Theatre relies on its ticket income and generous donations from individuals, corporations, foundations, and government organizations to produce world-class live professional theatre and to offer community engagement and arts education programs. WaterTower Theatre gratefully acknowledges the support of the Town of Addison, The Shubert Foundation, TACA, Texas Commission on the Arts and the National Endowment for the Arts. WaterTower Theatre's 2018-2019 Season is also supported, in part, through the generosity of its Producers Circle, including civic, corporate, and foundation donors AMLI Residential, Atmos Energy, FASTSIGNS Carrollton, Frost Bank, ONCOR, Slalom, Veritex Community Bank, Whole Foods, and individual donors Don and Barbara Daseke, The Bob Downs Family, Stan Graner and Jim McBride, Phillip and Janeva Longacre, Tom and Holly Mayer, Kathy Messina and Gary Goodwin, Janiece and Jimmy Niemann, Karol Omlor, Paul and Norma Schultz, Jack and Libby Swindle, Deborah and Craig Sutton, Ron and Donna Whitehead.