WaterTower Theatre Announces Single Tickets are On Sale!
28th Season: October 2023-September 2024
Addison (TX) – Shane Peterman, Producing Artistic Director has announced details of the 2023-2024 Season. This season marks the 28th for WaterTower Theatre, and the fourth season programmed by Producing Artistic Director Shane Peterman & Associate Producer Elizabeth Kensek.
From Shane, "It occurred to me while choosing this season with Elizabeth, that we were focusing on both fictional and non-fictional characters that have shaped the last 100 years in many ways. I think this season reveals the truth of what WTT theatre makers do- sharing human stories as told through the eyes of incredible playwrights and by the artists here in North Texas. I am particularly proud of the people of WaterTower Theatre; the staff, board, and our many friends that support us. I am proud of our town and the many North Texas professional theatre artists and designers who have worked with WaterTower over the last four years since I arrived here as the Producing Artistic Director. I suppose that is what resonated with me the most, is our greatest assets: the people, community, relationships, and stories that connect us all. I hope you will enjoy this, our twenty eighth season as we share these stories together."
This season focuses on the stories of fascinating, inspirational, complex, and intriguing characters- both real and fictional. We will explore the complex characters created by the conflicted artist Charlie Chaplin, the fascinating legacy of Texas' first and only female Governor Ann Richards, the barrier breaking conflicted musician Louis Armstrong, and the iconic character of fictional Mary Poppins made an indelible figure during all our childhoods in literature and film. We hope that you will join us at WaterTower for this ambitious 28th Season!
Season ticket packages will remain on sale until mid-November for only $149 for all three shows. Subscribers save nearly 20% on each ticket and have access to add-on tickets at a discount, invitations to exclusive subscriber-only events, and discounted concessions for the season with the new WaterTower member perk card.
Single tickets for all four shows are on sale at the WaterTower box office and on www.watertowertheatre.org as of Monday August 21st, 2023.
__________________________________________________________________________________________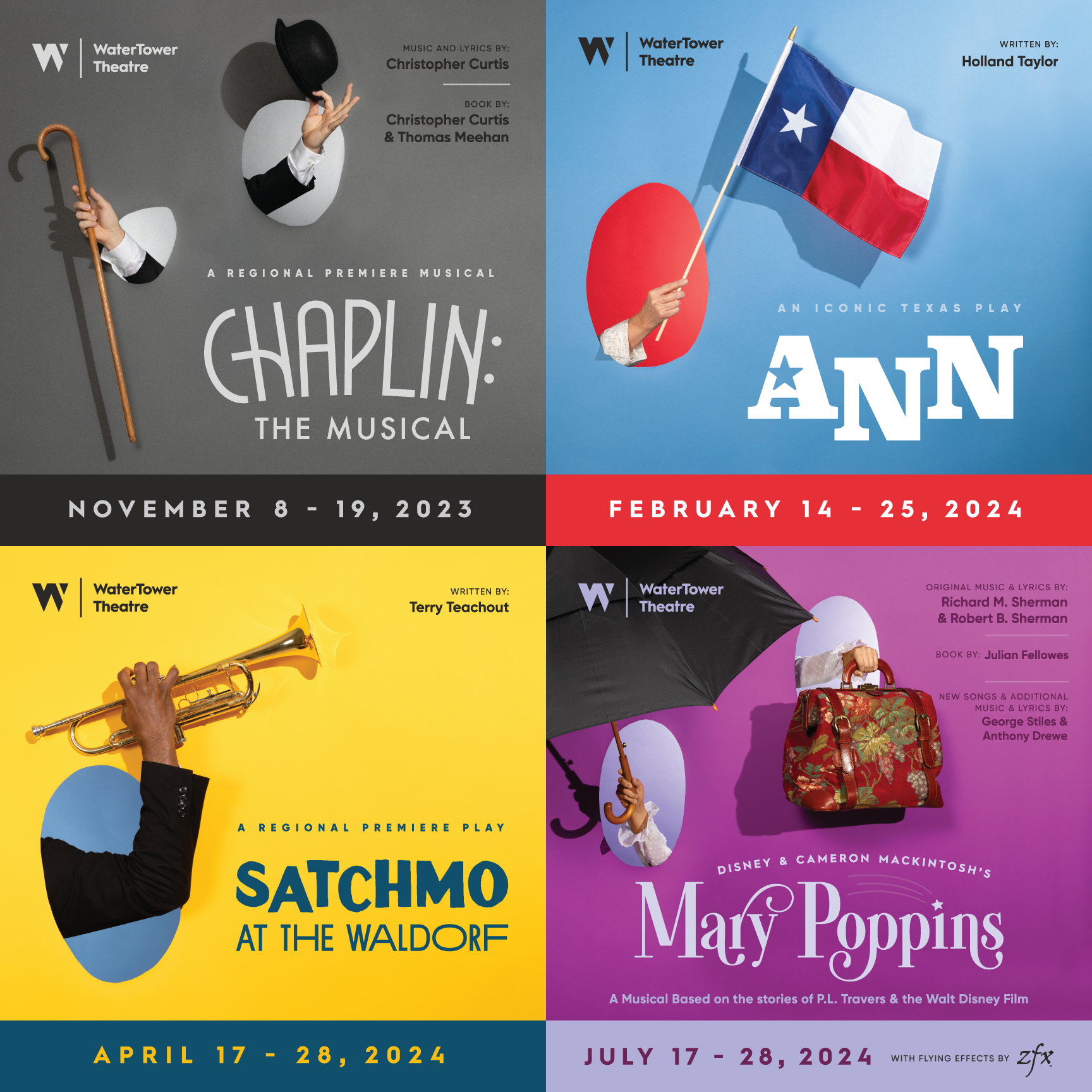 SEASON 28: 2023-2024
Regional Premiere Musical
CHAPLIN: THE MUSICAL
Music and Lyrics By: Christopher Curtis
Book By: Christopher Curtis & Thomas Meehan
Directed By: Shane Peterman
Music Directed By: Vonda K. Bowling
Choreographed By: Ann Nieman
Performances: 11/8/23-11/19/23
CHAPLIN is based on the real-life story of Charlie Chaplin, the iconic film actor, writer, producer, and director. The new musical spans the comic's entire career, from Chaplin's first performance as a child in 19th-century London to his tearful acceptance of an honorary Academy Award in 1972. The show documents the beloved actor's rise to fame and the people who shaped his life, including his mother Hannah, his older brother Sydney, his fourth wife Oona O'Neill and gossip columnist Hedda Hopper. The musical dramatizes the making of Chaplin's legendary films, including The Kid, The Circus, Modern Times and The Great Dictator as well as his turbulent childhood, frenzied love life and political beliefs. Featuring an original score by Christopher Curtis, including "Look at All the People," "Just Another Day in Hollywood" and "This Man," CHAPLIN tells the touching story of the man who makes the world laugh as his legendary screen persona, the Tramp, but struggles to find happiness in his own life.
Contains adult themes. Recommended for ages 13 and above.
An Iconic Texas Play
ANN
By: Holland Taylor
Directed By: Susan Sargeant
Performances: 2/14/24-2/25/24
ANN is a no-holds-barred portrait of Ann Richards, the legendary governor of Texas. This inspiring and hilarious new play brings us face to face with a complex, colorful and captivating character bigger than the state from which she hailed. Written and originally performed by Emmy® Award winner Holland Taylor, ANN takes a revealing look at the impassioned woman who enriched the lives of her followers, friends, family, and fellow Texans.
Contains adult themes. Recommended for ages 13 and above.
A Regional Premiere Play
SATCHMO AT THE WALDORF
By: Terry Teachout
Directed By: Feleceia Wilson
Performances: 4/17/24-4/28/24
SATCHMO AT THE WALDORF is a one-man, three-character play in which the same actor portrays Louis Armstrong, the greatest of all jazz trumpeters; Joe Glaser, his white manager; and Miles Davis, who admired Armstrong's playing but disliked his onstage manner. It takes place in 1971 in a dressing room backstage at the Empire Room of New York's Waldorf-Astoria Hotel, where Armstrong performed in public for the last time, just four months before his death. Reminiscing into a tape recorder about his life and work, Armstrong seeks to come to terms with his longstanding relationship with Glaser, whom he once loved like a father but now believes to have betrayed him, and Davis' criticisms of him as a fellow Black artist.
Contains adult themes & strong language. Recommended for ages 18 and above.
A Blockbuster Musical
Disney and Cameron Mackintosh's
MARY POPPINS
A Musical Based on the stories of P.L. Travers and the Walt Disney Film
Original Music & Lyrics By: Richard M. Sherman and Robert B. Sherman
Book By: Julian Fellowes
New Songs and Additional Music & Lyrics By: George Stiles and Anthony Drewe
Directed By: John De Los Santos
Choreography By: John De Los Santos & Vasthy Mompoint
Music Directed By: Cody Dry
Performances:7/17/24-7/28/24
One of the most popular Disney movies of all time is capturing hearts in a whole new way: as a practically perfect musical! Based on the books by P.L. Travers and the classic Walt Disney film, Disney and Cameron Mackintosh's Mary Poppins delighted Broadway audiences for over 2,500 performances and received nominations for nine Olivier and seven Tony Awards, including Best Musical.
A delight for both grown-ups and children- we can all learn a lesson or two from the nanny who advises that "Anything can happen if you let it." MARY POPPINS is an enchanting mixture of irresistible story, unforgettable songs, breathtaking dance numbers and astonishing stagecraft with flying effects by ZFX.
Recommended for audience members of ALL ages.
__________________________________________________________________________________________
New or renewed season tickets are available for purchase by contacting the Box Office by phone at (972) 450-6232 or by email at boxoffice@watertowertheatre.org until November 2023.
Single tickets are available for purchase NOW by contacting the Box Office by phone at (972) 450-6232 or by email at boxoffice@watertowertheatre.org.
All productions will be staged on the Terry Martin Main Stage at the Addison Theatre Centre at 15650 Addison Road, Addison, Texas 75001.
For more information on WaterTower Theatre, visit us online at www.watertowertheatre.org or call the Box Office at 972.450.6232.