WaterTower Theatre Auditions for: JESUS CHRIST SUPERSTAR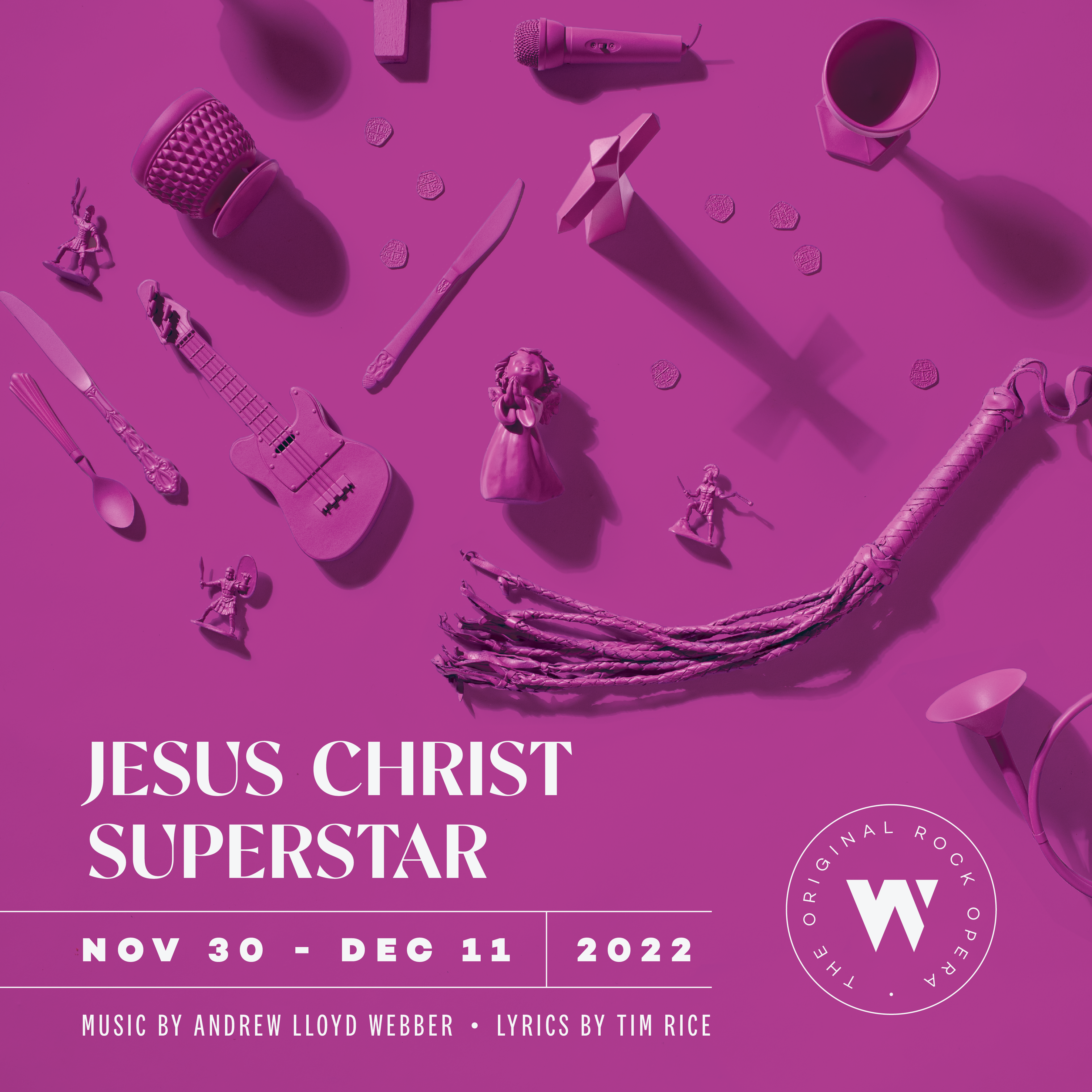 WaterTower Theatre Auditions for:
JESUS CHRIST SUPERSTAR
Lyrics By Tim Rice
Music By Andrew Lloyd Webber
Producing Artistic Director: Shane Peterman
Associate Producer: Elizabeth Kensek
Director: Natalie King
Choreographer: Kelly McCain
Music Director: Cody Dry
WaterTower Theatre is dedicated to diversity and inclusion as a core value, and as such we strongly encourage actors of all ethnicities, abilities, genders, and ages to audition. This production will be presented on The Terry Martin Main Stage. Seeking local hires only.
Must be willing to follow strict safety standards and agree to COVID testing which will be paid for by WTT. This production is approved under Actors' Equity Fully Vaccinated Safety Standards.
All positions are paid. Equity SPT 6 (Small Professional Theatre) & Non-Equity contracts available.
Rehearsals: 11/1/2022- 11/29/2022 (typically Monday is the observed Equity day off)
Shows: Wednesday-Sunday: 11/30/2022-12/11/2022
About the Show: What's the buzz? The first musical by Andrew Lloyd Webber and Tim Rice to be produced for the professional stage, Jesus Christ Superstar has wowed audiences for over 50 years. A timeless work, the rock opera is set against the backdrop of an extraordinary and universally known series of events but seen, unusually, through the eyes of Judas Iscariot. This hit rock opera has not been produced with an all-local cast & creative team in DFW in over 25 years!
---
ROLES:
We encourage performers to submit for any roles they are interested in; genders are purposely not listed, but the vocal parts have been included for reference. The creative team is very interested in casting the best singers of any gender for these roles. However, singers must be able to perform the music for any desired roles in the key in the published score, as the music cannot be transposed into a new key per the publisher.
Jesus Christ –20-35 – Rock Tenor (A2–G5) – Title role, leader of the twelve disciples, called the "Son of God" and the "King of the Jews." Jesus has a difficult time accepting fate & struggles with the weight of leadership.
Judas Iscariot – 20-40 – Rock Tenor (D3–D5) – One of the twelve apostles of Jesus; concerned for the poor. Judas believes in Jesus's teaching but has started to grow wary of the consequences of Jesus's fame.
Mary Magdalene –20-35 – Mezzo-Soprano/Belter (F3–E♭5) – A follower who falls in love with Jesus & struggles with those feelings.
Pontius Pilate – 30-50 – Rock Baritone (A2–B4) – Governor of Judea who foresees the events of Jesus's crucifixion from beginning to aftermath in a dream and finds themselves being presented with that very situation.
Caiaphas – 25-50 – Bass (C♯2–F4) – One of the main antagonists of the show. High priest who sees Jesus as a threat to the nation. A person in power who fears losing that power to Jesus.
Annas – 20-50 – Tenor (G2–D5) – One of the main antagonists of the show. Fellow priest at the side of Caiaphas who is persuaded by Caiaphas into seeing Jesus as a threat. Annas can seem more conniving than Caiaphas.
Peter Simon – 20-30 – Tenor (A2–G4) – One of Jesus's twelve apostles; denies Jesus three times upon the night of Jesus's arrest.
Simon Zealotes – 20-30 – High Baritone (G3–B4) – One of Jesus's twelve apostles; urges Jesus to lead the followers into battle against the Romans. Simon is under the belief that violence can solve all their problems.
King Herod – Any Age - Baritone (C♯3–G4) – The King of Galilee; Jesus is brought to Herod for judgment after first being taken to Pilate. Herod is a comedic role. Starts very nonchalant and as the scene progresses, becomes more irritated when he doesn't get his way.
Ensemble – All Ages – All Ranges – strong rock/pop singers, should be strong movers, will play apostles, lepers, soldiers, King Herod's soul girls, merchants, Judas' tormentors, reporters, temple ladies, & may understudy above roles.
---
If you have any questions please email Associate Producer, Elizabeth Kensek at EKensek@watertowertheatre.org

VIDEO AUDITIONS MUST BE SUBMITTED BY end of day on Friday June 17, 2022.
IN PERSON CALLBACKS WILL BE SCHEDULED PER EQUITY SAFETY GUIDANCE on June 20-21, 2022
To submit an audition:
Please record a video of an appropriate Rock-Pop-R&B song of your choice (16-32 bars). You may sing from the score if desired. Singing with a pre-recorded accompaniment track is perfectly fine- many are available free of charge on you-tube. Please make sure that your voice is audible in the video.

If you require sheet music or accompaniment tracks they can be found here. Please select a 16-32 bar selection from the available music. These will also be the music sides used for callbacks:

Post your audition video to youtube/vimeo/dropbox
And finally visit the following portal to submit your information, headshot, resume & link to your audition for the Creative Team to review: https://airtable.com/shrvue7HAlESPuTMy
ALL VIDEO SUBMISSIONS WILL BE VIEWED IN FULL.